Let's chat about it
Wander Over Yonder is my favorite special interesting and #1. I know lots of things about WOY. Like Jack McBrayer plays Wander. I saw him play a role on the middle as a dentist. I SAT on my couch and had my eyes glued to the TV until the scene was over. One of my first of this was. "Jack/Wander was a dentist my worst fears have been realized." Because I'm scared of going to the dentist, but Jack's role won't effect me. Also the creator Craig McCracken. My friend Alpha Kratt wrote is on Tumbr and Craig like it. http://alphakratt.tumblr.com/post/102957407515/my-friend-finally-learned-how-to-draw-wander-and   Yeah I think he knows about me also. I asked my Mom for a Tumblr account. She going to talk to my Dad about it. That's begin of facts I know about Wander Over Yonder. I usually get mad at people if they say they are Wander's #1 fan or something like that. Like this not famous You Tuber Gigi Pimententel she says in first video she Wander's #1. She not I am. This MADE me anger. Why should she be Wander's #1 fan. She probably doesn't who plays him. (Until she looks at this but doubt she doesn't care about Autism.)
Plus I'm sure Wander thinks I'm special. He'd probably help me with anything. Also I watch Wander Over Yonder usually every night since episode 5 or 7. (Ep.5 The Good deed; Ep.7 The Prisoner) If I can't watch it and it's not in my schedule, I get pretty sad or freak out. I always dreamed of meeting Craig McCracken, Jack McBrayer, and April Winchell. April plays the voice of Sylvia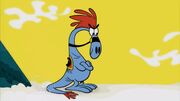 as you see to the picture on your left. Sylvia is kinder that you think if you didn't see the show. My favorite character of the show? I have a list and I will write them down below and the dates I loved them (as friend).
My list of Wander Over Yonder faves
Wander (Orange guy you see on Sylvia's back on the picture to the right.)
I have like him since I seen the preview. Aug. 20 2013 (I think.)
I loved him since Ep.4. Sept. 21 2013
He broke my heart once when the bad guy Ep.8 preview came out. But we are cool now.
2. Sylvia
Liked since Nov.26 2013 when I heard about the Mattel recall in 2007.
Loved since I saw the Time bomb  Ep.18. May 28th 2014
Now I like Sylvia more than my "favorite coach" (she was for school and don't do sports.)
3.Commander Peepers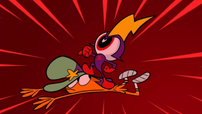 (The guy on Wander's back in the picture below)
Loved since Ep.7, Oct.11 2013
Broke my heart on Dec.6 2013 because of the way he treated Wesley on the Little guy.
Regain my heart Jan. 24 2014 after The Bounty Ep.14
I still love till this day.
4. Lord Hater
(the guy on the picture below Peepers and Wander's)
Someday when I saw the preview for the gift 2 he was a little like me.
Nov.18 2014 (the same day as Alpha's post on Tumbr) it was sad to see him went I saw the picture for the funk coming Nov.25 2014.
Okay that's it for now I gotta to watch Wander Over Yonder later. Wait why do they call me Woybff? It stands for. W-Wander O-Over Y-Yonder B-Bigest F-Fan F-Forever.