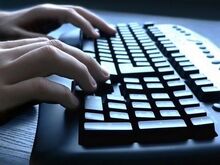 Typing is a form of alternative and augmentative communication (AAC) that nonverbal or partially verbal Autistic people may use to communicate.
Typing is useful because it allows more nuanced expression than PECS, and does not require training to understand (unlike sign language). However, it can be difficult for young children or people with severe dyspraxia.[1]
In some cases, Autistic people have shown considerable poetic or other writing talent. Poets such as Amy Sequenzia and teenager Emma Zurcher Long are praised for the depth and unique phrasing in their poetry. The Autistic community is filled with eloquent poets and essayists.
References