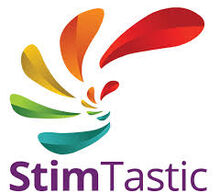 Stimtastic is an autistic-run stim toy company that sells toys and jewelry for stimming. Its name is a combination of the words stimming and fantastic.
Its logo is meant to evoke the movement of stimming in a positive way. The five fronds represent five fingers, and the rainbow evokes the spectrum of autism and neurodiversity.[1]
Five Key Principles
Stimtastic is built upon five principles. Its website describes them as...
Affordability: Stim toys and jewelry should be affordable and we will work hard to bring you quality products at affordable prices.
Representation: All of the products on Stimtastic.co are modeled and demonstrated by neurodivergent people. All of our original designs will be created by neurodivergentartists.
Inclusion: Our jewelry is purposely not categorized as Men's or Women's. We'll give you detailed information about the sizes and measurements of each item--you decide which styles are right for you.
Giving Back: 10% of proceeds from sales at Stimtastic.co are given back to the autistic community, both as donations to charities that benefit autistic people and as direct giving to autistic individuals in need.
Celebration: Stimming is an essential part of being autistic and we're here to help you celebrate it. We promise that our product descriptions and website will always reflect that core belief, making this a safe, enjoyable website to visit.[2]
Community Involvement
Stimtastic has become more than a company, actively involving itself in the autistic community. Its projects have included giveaways and design contests. It also features a photo gallery where people can upload "photos of your happy stimming selves."[3]
Stimtastic maintains an active social media presence. People can ask questions on the organizations' tumblr, where Cynthia Kim responds.
History
Founder Cynthia Kim first had the idea of creating Stimtastic in August 2014.
"I'd been thinking for a while that it would be cool if there was a place that autistic adults (and teens and parents of autistic kids, but especially adults) could get stim toys and chewable jewelry that was specifically for us and that had a consciously stimming-positive message. Then I realized that, "hey, maybe I could make that happen."
"My brain started running off in all sorts of directions. What if the website was not only stimming-positive, what if we used all autistic models? What if we didn't gender our products? What if we gave back a portion of every sale to the autistic community? What if we supported autistic artists by selling autistic designed products? What if we created a program to help out autistic adults who couldn't afford things like stim toys and AAC and weighted blankets?"[4]
The company has grown to reach many of these goals.
External Links
References