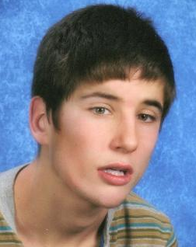 Nicholas "Nicky" Richett (June 3, 1995 - June 12, 2015) was an autistic boy murdered by his father at age 20.[1] He lived in Melvindale, Michigan.[2]
Death
Police found the bodies of Richett and his father on June 12 2015. Nicholas' father had shot him, and then killed himself.[3]
Aftermath
Media made the typical points: that Nicholas was low-functioning, that it is extremely stressful to care for an autistic person, that parents worry about who will care for their autistic child, that the father loved him dearly, et cetera.[3] The police department made similar remarks.
As usual, ASAN published a statement condemning these remarks.[4]
References
Due to the horrific nature of the subject matter, a trigger warning applies. Some news media humanize the father and dehumanize Nicholas, and these are marked.