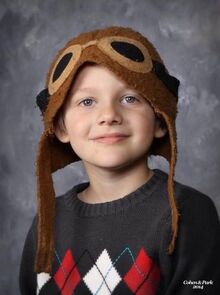 London McCabe was an autistic boy. When he was six years old, his mother threw him off Yaquina Bay Bridge, where he fell 133 feet to his death.
London's Life
London's father Matt McCabe fondly remembers his son as a cheerful, energetic child.
"He would spontaneously say a word that was different from time to time. His grandmother came to visit and he ran up to her and said "Grandma," and he had never used the word before. He was starting to color. He was very active. He liked to run and jump a lot."[1]
London loved life, and was often seen wearing big floppy hats. He loved fuzzy textures and stuffed animals.[2]
London liked big hats. He liked fuzzy stuffed animals. He made a wish on his cupcake for his sixth birthday. In September, his father wrote, "London is pleased as punch. He lays on our laps and puts our hands together. Last night he made the 'mmmwha!' sound and gave his Mommy a kiss. Then he made the same sound and pushed our faces together. He's all smiles."[3]
Principal Kelly Beaudry described him as an "animated, expressive little boy who was full of love" and who enjoyed singing and making people laugh. "He's going to be missed."[4]
Murder
London's mother Jillian McCabe took him for a walk on the day of the murder, which was part of his physical therapy. His last words to his father Matt were "Bye-bye."[1]
At 6:25 pm, London's mother called 911. She told the dispatcher "I just threw my son over the Yaquina Bay Bridge." She described herself and her son, and told officers on the scene that she had thrown him into the water. London's body was found at 10:30 pm.[5]
Aftermath
The local community filled the bridge with flowers, stuffed animals, notes, balloons, and toys. Transportation workers had to move many of them to an area south of the bridge so that they would not be a safety hazard.[6]
The Thursday after the murder, a candlelight vigil was held under the north end of the bridge where London was killed.[7] On Sunday, people held another vigil during which they released balloons with notes to London.[8]
The McCabe family released a statement thanking the community for their support.[9]
In 2016, London's mother, Jillian McCabe, was sentenced to life in prison for this killing. [10]
Reactions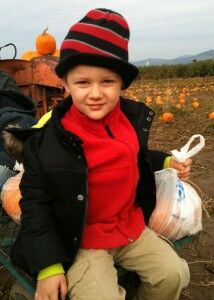 Media
Some media outlets focused on London's "severe autism" and portrayed the murder as an act of desperation because of "how difficult autism made the mother's life."[11]
Matt McCabe spoke against this portrayal.
"London was autistic, but he was important as a person. He didn't deserve to die. He wasn't suffering. A lot of the media like to portray people with autism as suffering. That the person who killed them have done a mercy. That is not the case."[1]
Autistic Community
"Our community mourns someone we lost before he had lived long enough for us to meet." - ASAN[12]
The autistic community grieved the death of London, noting the tragic pattern of autistic and other disabled people being murdered by their caregivers. ASAN released a statement the day after the murder, saying
"Every year, the Autistic Self Advocacy Network holds a Day of Mourning for all people with disabilities murdered by our caregivers. Every year, we read a list of the names of victims, and every year, the list gets longer. It is with a heavy heart that we add London to this list."[12]
The autistic community noted that anti-autism sentiments and autism eradication treatments, such as the anti-vaccination movement, gave parents the idea that autism could be ended (and that when those treatments fail, parents may become violent).
Ari Ne'eman explained that many murderers have been "inculcated into an ideology in which it's better to be dead than to be disabled. If they cannot succeed in fixing or curing their child, their child's life has no point."[3]
Julia Bascom noted that this sentiment was echoed in the media.
"Usually when there is a case of filicide and the victim is not disabled, there is a huge public outcry. When the victim has a disability and that comes to light, the conversation really changes. They say, 'It's a tragedy, but have you ever lived with someone like that?' The message families are hearing is that autism is something to be feared. We think that has very destructive consequences."[1]
References