This page needs inline citations for sources to back the claims made.
If you need guidance as to how to do this please go to

its talk page

.

Gottfried Mind (September 25, 1768 – 17 November, 1814) was an autistic savant who was a gifted painter. He created many paintings of animals, and was commonly known as Cat-Raphael due to the excellence with which he painted cats. Gottfried is one of the the earliest recorded examples of the existence of Autism.
Gottfried Mind was born at Bern. Just before that his father had moved as a joiner and form-cutter to Switzerland from Lipsich, in Upper Hungary. During his early childhood, Mind was mostly left alone to himself, on account of his weak constitution. He developed a liking for painting and would draw on paper. His father thought that drawing on paper was not worth the effort, and whenever Mind wanted paper, he would be given a piece of wood to draw upon. He attempted to carve images on the wood and also succeeded to a great extent.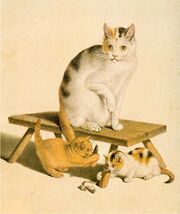 When he was 8 years old, he was admitted into an academy instituted by Pestalozzi at Neuenhof (near Bern, Aargau). In the year 1778, these remarks were noted about him as published by the Economic Society of Bern:
"Friedly Mynth of Bossi (Mind of Pizy), of the bailliwick of Aubonne, resident in Worblaufen, very weak, incapable of hard work, full of talent for drawing, a strange creature, full of artist-caprices, along with a certain roguishness: drawing is his whole employment: a year and a half here: ten years old."
Exact years of his stay in this academy is not known, during the years 1780 and 1785, he came into touch with a painter named Sigmund Hendenberger (at Bern). Under the guidance and direction of Hendenberger, Mind learnt drawings and coloring with water-colors. However, his paintings talents flourished after the death of Hendenberger, and he created paintings and drawings on a number of themes.