This page needs inline citations for sources to back the claims made.
If you need guidance as to how to do this please go to

its talk page

.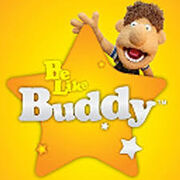 Buddy is a fictional autistic character. He is a puppet boy diagnosed with autism who learns about social skills. Buddy is featured on the online YouTube series[1], "Be Like Buddy", where it teaches children who have special needs or autism to do certain social skills appropriately by using social stories. In each episode, an adult volunteer helps Buddy to do these social skills. They go step by step on a checklist. If Buddy does something right on the checklist, he earns a star. And if he earns all the stars on the checklist, he earns a desired prize.
Created by a neurodivergent family, the official Be Like Buddy website hosts teaching tools and more videos for Neurodiverse children.[2]
References