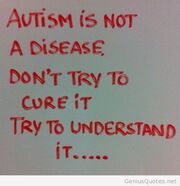 PLEASE UPDATE YOUR BOOKMARKS TO OUR NEW FANDOM WEB ADDRESS - autism-advocacy.fandom.com
Welcome to Autism Wiki - merged with the Asperger and Exposing Neurodiversity Wikis.
We are currently editing over 331 articles
New pages | Categories | Wiki tutorial | Help pages
IF YOUR AREA HAS COVID-19 RESTRICTIONS, PLEASE OBEY THEM. IF YOU DON'T YOU ARE HURTING YOUR WHOLE COMMUNITY. AND GET VACCINATED.
A wiki is a website that's created by the people who use it. Autism Wiki is a place where people with Autism and Asperger's, and the people who care about them, can share their stories and build a database of helpful information.
If this is your first time on a wiki, then the first step is to create a user name -- it's free, and it only takes thirty seconds. As of January 21, 2016, you can no longer edit as an anonymous IP. Then visit the sandbox to try out your first edit! If you want to substantively edit an article please go to the talk page of the article first to present your proposed changes.
There are some rules to follow and they can be found here