The Autism Society of America (ASA), founded in 1965 by Bernard Rimland, is the oldest organization "dedicated to increasing public awareness about autism and the day-to-day issues faced by individuals with autism, their families and the professionals with whom they interact." For more than last four decades the society has been rendering support to children and persons affected with autism, and functioning as a network for parents and relatives of children with autism, and health care personnel dealing with patients with autism. It has more than 120,000 members has around 200 chapters nationwide.
The mission statement of the ASA is "Improving the lives of all affected by autism", and its vision is articulated in these words: "Autism Society of America (ASA) is the leading voice and resource of the entire autism community in education, advocacy, services, research and support. The ASA is committed to meaningful participation and self-determination in all aspects of life for individuals on the autism spectrum and their families. ASA accomplishes its ongoing mission through close collaboration with a successful network of chapters, members and supporters."[1]
Management
The ASA is governed by a board of directors which include volunteers and even parents of children with autism. The present board (2007) is comprised of the following:
Board of Directors
Cathy Pratt, Ph.D., Chair
Ruth Elaine Hane, First Vice-Chair
John Shouse, Second Vice-Chair
John Reedy,Treasurer
Elizabeth Roth, Secretary
Lee Grossman President & CEO
Andres Filippi
Carolyn Gammicchia
David Humphrey
Artie Kempner
Evelyne Milorin
Stephen Shore
Jerry Silbert
Dean Wilson
Honorary Board Members
Bernard Rimland, Ph.D.
Eric Schopler, Ph.D.
Ruth Christ Sullivan, Ph.D.
The board serves as the governing body of the organization, and sets its vision to its functioning.
The day-to-day affairs of the ASA is looked after a dedicated pool of staff members, volunteers, and interns working under the President and CEO, Lee Grossman.
Awards
The Autism Society of America presents each year a number of awards and scholarships to organizations, institutions, and individuals for their exemplary contributions and commitment to the autism community. These awards and scholarships may be grouped under following four broad categories:
Autism Society of America Awards
Autism Society of America Scholarships
The CVS/All Kids Can Scholars Program
Wendy F. Miller Awards
Publications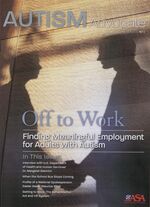 The ASA publishes a magazine, Autism Advocate [1]. Five issues of the magazine are published each year and it is subscribed by around 60,000 ASA members. The magazine contains latest news related to autism, event highlights of different chapters of the ASA, first hand accounts of families with members afflicted with autism, and suggestions from autism health care personnel, parents and family members.
On the right hand side, the cover of the latest edition (2007 first edition) of Autism Advocate is shown. Names of some of the articles indicated in this issue illustrates the coverage of a wide variety of topics pertaining to autism and related disorders:
Off to Work for Individuals with Autism presents an outline of a supported employment appraoch
Getting to Work gives details of the Rehabilitation Act and the Vocational Rehabilitation System
When the School Bus Stops Coming talks about the employment dilemma for adults with autism
US Department of Health and Human Services' Dr. Margaret Giannini tells the decades of passion and work for those with disabilities
See also
External link
References
Template:Wikipedia